Dream wedding in Barcelona
The most important day of your life deserves an impeccable location and gastronomy to match your marriage. Located in the heart of Barcelona and with panoramic views of Paseo de Gracia, the Condes de Barcelona hotel has the best spaces to say "I do". Organize with us your wedding in Barcelona, the engagement party and even the vows renewal. Our team is at your disposal to help you organize all the details and make your dream wedding come true.
Contact:
Hotel Condes de Barcelona, Attn. Events Dept.
Tel.: 93 445 32 01 · Fax: 93 445 32 23
E-mail: events@condeshotels.com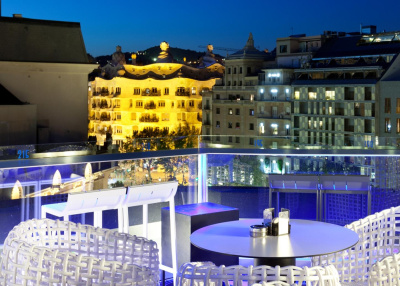 The first day of your new shared life will remain in your memories forever. We will become your best allies to carry out all the details of your dream wedding and make it an unforgettable event. We put all our love and effort to make each marriage ceremony unique and perfect.
Unique venues and restaurants to celebrate your wedding in Barcelona
One of the first steps in planning a wedding is to choose the ideal place for the celebration. If you are thinking of celebrating your wedding in a hotel in Barcelona, Condes de Barcelona is exactly what you are looking for. The uniqueness of our spaces that combine tradition and design have become the ideal setting for special occasions. Celebrate love with a delicious cocktail on our spectacular Alaire terrace overlooking the center of Barcelona and enjoy the banquet in our function rooms carefully decorated for the occasion.

Whether you are looking for a restaurant for your intimate wedding in Barcelona or if you want a large luxury wedding in Barcelona, at the Condes de Barcelona hotel you will find your ideal space and live a unique experience.
All the details for an unforgettable day
Our professional events team will be at your side to help you customize your wedding in Barcelona and make it perfect. The Condes de Barcelona hotel offers you the following services:
Wedding menus that include an aperitif served on our spectacular terrace
Children's menus
Wedding cake
Open bar
Special DJ for weddings or live music
Photographic report guaranteed by the experience of the best wedding photographers in Barcelona
Civil ceremonies
In addition, we offer you the following services:
Personalised printed menus
Seating plan and personalised cards for the invited guests
Decorative floral centrepieces for the tables
Bride and groom figures to accompany the wedding cake
Honeymoon Suite for the wedding night
Tasting menu for 2 people
3 parking places
An invitation to celebrate your first wedding anniversary at Alaire Terrace Bar
Do not hesitate to contact us for any additional information or to ask for your personalized quote.
Wedding catering designed by Martín Berasategui
EXCELLENCE AND UNIQUENESS

The prestigious chef Martín Berasategui puts all his dedication and passion in designing the best wedding catering in Barcelona. Berasategui knows perfectly all the possibilities offered by the flavors and exploits it to the maximum to offer you a varied gastronomic offer, dishes cooked with the most exquisite ingredients selected especially for the occasion. A creative, fresh and surprising gastronomic proposal to delight your family and friends.

At the Condes de Barcelona hotel we have integrated culture, gastronomy and a different way of loving cuisine with the aim of surprising you with the best service for special occasions. If an exceptional gastronomy is accompanied by a privileged setting, the event becomes a memorable event.