A unique view of modernist Barcelona
Located on the 8th floor of the hotel overlooking La Pedrera and the Sagrada Familia, ALAIRE is a must-go meeting place in the city. With its varied and delicious menu, you can enjoy an al fresco daytime aperitif, informal dinner or cocktail accompanied by the best music.
Opening Hours:
Everyday from 1:00pm to 1:00am
Kitchen opened until 11pm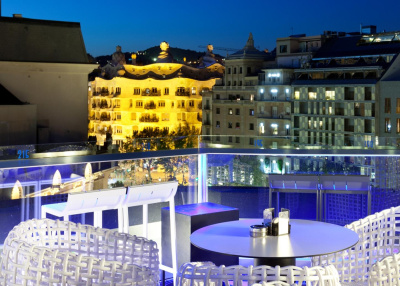 After-work get-togethers in the open air.
After-work get-togethers in the open air. The best place to unwind. Views, music and an extensive cocktail and tapas menu.
Tapas, burgers, pizzas & Asian dishes
Kitchen open from 1:00pm to 11:00pm
Live music
Live DJ sessions, bossa nova, jazz and boleros on spring and summer evenings.
Cocktail bar
Come and enjoy our wide range of cocktails.
Magnificent Alaire menus
On the ALAIRE terrace, Barcelona is at your feet and all you have to do is enjoy it. It is one of those places that catch you and where you will not want to leave, the perfect harmony between gastronomy and spectacular views. Come and touch the sky of Barcelona.
Feel the light of Barcelona while you let yourself be seduced by the best live music. A modern decor dominated by elements that allude to the summer, the heat and the sea.
The ALAIRE rooftop is the perfect place for your next meeting point, or simply for an evening with friends. Our goal is to offer you a unique environment and the best equipment to help you plan your next party or event that will leave everyone in attendance speechless. Enjoy a delicious meal or cocktails, or have a few drinks with great music and unbeatable views. This spacious terrace overlooking Barcelona has it all.
ALAIRE Barcelona is the kind of place you can go to feel connected, or to disconnect. We invite you to enjoy exquisite dishes for lunch or dinner, or simply have a snack in the chill out area. There is no better way to escape than a visit to our terrace, ideal to disconnect from the routine.
Hotel Condes de Barcelona